The first Saint Ann Church was opened in January of 1917. The building, which still stands on the corner of Naugatuck Avenue and Cottage Street, had once been the Devon Chapel. Saint Ann's, originally a mission church from Saint Mary's, became an independent parish on August 5, 1924.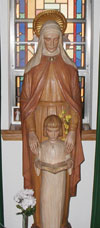 The newly established parish purchased the land on the corner of Naugatuck Avenue and Church Street that is now the site of the actual parish campus. On September 28, 1924 the Most Reverend John J. Nilan, Bishop of Hartford, dedicated Saint Ann's basement church. The new church was just that, too – a basement, the foundation of our present church.
In 1953, Reverend Francis P. Breen, pastor, drew up plans for Saint Ann School, the first Catholic school in Milford. Construction began in 1955 and the school opened in 1956. Under Father Breen's auspices, the present church was built in 1961 and dedicated on April 7, 1962.
The parishioners are grateful for the hard work and dedication of all the clergy who have served the people faithfully and well. We look to the future grounded in faith, bright with hope and blessed with the love of Father, Son and Holy Spirit.